Coming Soon: Farming's In-Law Factor
Wednesday, September 16, 2020
Back
You are not along in muddling through the people issues that threaten to undermine your hard work and family business. Elaine' book is the tool you need today to help you get more harmony on your farm.
Are you a daughter in-law, mother in-law, father in-law or son in-law?
If so, you will not want to miss this episode. I promise you.
Sign up to become an Impact Farming Insider. Why? First off, you will be the first to receive notifications about new episodes. Secondly, our Insiders are automatically entered to win all contests and giveaways. For the fall books series we are really stepping it up and we will be giving away copies of books from every author that we interview.
Don't miss out. Sign up today https://www.farmmarketer.com/impact_farming_show/sign-up
Excited and just want to buy the book today? I hear you!!! Click <
HERE
>on the book below and it will take you to Elaine's website where you can purchase the book right away. No waiting on the episode to air.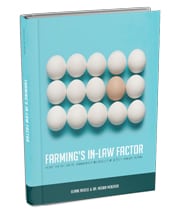 Thanks for tuning in,
Tracy Brunet