Book Recommendation: Building Your Farm Legacy
Tuesday, July 21, 2020
Back


Building Your Farm Legacy: Tools To Empower Better Family Communication
by Elaine Froese
May 19, 2017

ABOUT THE BOOK
Many farm folks work hard at producing great crops and caring for livestock, but when it comes to communicating their deepest desires for the future of the farm, they get stuck. This book is a compilation of Elaine Froese's best information and can be used to plant seeds of new ideas to embrace habits for better relationships and ultimately build the legacy of your farm.
What are farmers saying?


"Tell us how to get our parents and grandparents to come to the table to talk about transition issues."


"I am so tired of being the one in the middle of all this conflict, how do I get the people on this farm to stop fighting and start acting?"


"Thanks for giving me a sense of hope and comfort. I know now what needs to be done next to get what we need for this farm to continue to the next generation!"


"You don't have to travel this road alone!"

---

THE IMPACT FARMING SHOW

Is your farm going through a transition? Better yet, should your farm be going through a transition however there seems to be zero communication or avoidance? We hear you. It's frustrating.

If so, you will want to check out last week's and this week's upcoming episode on Transition Planning Secrets of Secrets with Elaine Froese We aired the episode geared towards farm founders last week, and this week, we will be speaking to Generation 2..the successors.

In the meantime, have you checked out Elaine's website? She is a farm family coach with over 40 years of helping farm families get unstuck when it comes to farm transition. Her site is full of free resources and she also has a store where you can buy courses, books and much more to help your farm family succeed. Visit elainefroese.com today. 


---

ABOUT THE AUTHOR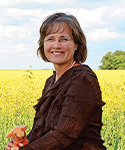 ELAINE FROESE is a professional speaker, author and farm family coach. She is a farmer and has a background in conflict resolution and communication. She uses her knowledge to help fellow growers and ranchers face make-or-break issues head-on - so they can focus on the business of farming. 
Connect with Elaine Froese - Twitter / Facebook / LinkedIn / Website