About Me
Tom and Debra have been married for 13 years and absolutely love the Sundre area.
Debra has been in sales for 30 years and 9 years ago decided to try her hand at real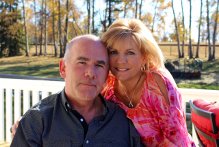 estate and it was a great move.... While Tom, before landing in a wheelchair, had his own business putting in and reclaiming roads, so he truly knows land. Tom also pastors at Cowboy Church in the Sundre area. Debra and Tom are a great team, she does the showings and selling while Tom finds the properties and wraps up the deal.