Back to News
Farm Family Podcast: Episode 11 - Ten Tips to Grab the Bull by the Horns with your Farm Family
Thursday, November 16, 2023
Reference: Podcast Corner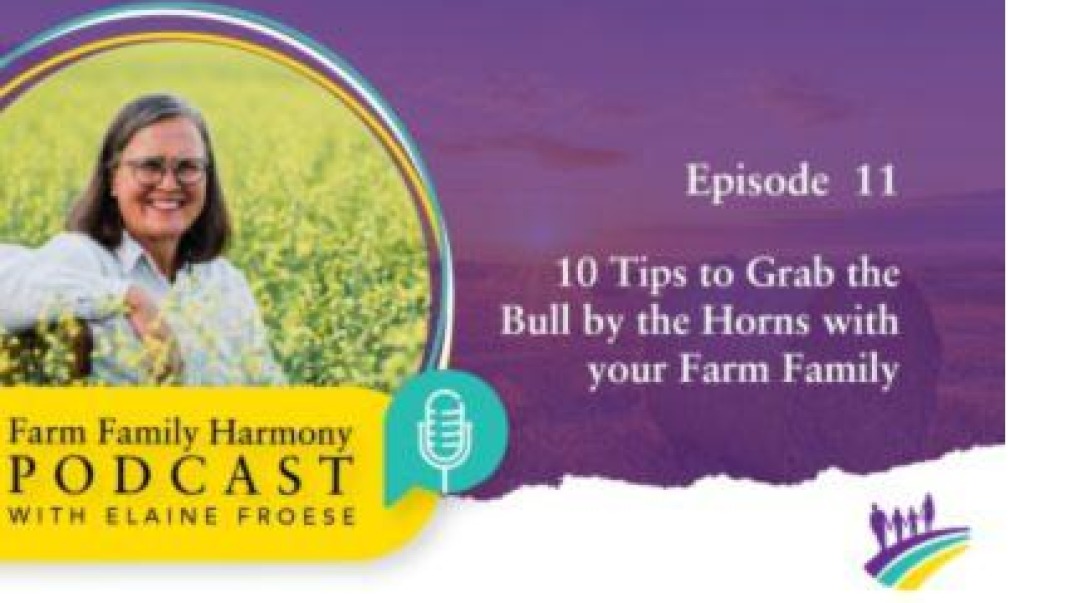 Episode 11: Ten Tips to Grab the Bull by the Horns with your Farm Family
by Elaine Froese | November 14, 2023 | Farm Family Harmony Podcast
In this episode of the Farm Family Harmony Podcast, join Elaine as she takes you on a journey to "Discussing the Undiscussable." With engaging anecdotes and practical tools, you'll learn how to address those unresolved issues within your family farm, fostering better communication, understanding, and ultimately, harmony. Don't miss this insightful episode filled with valuable transition tips and tactics to enhance your farm family relationships.
Download for free here: 
elainefroese.com/free-planning-resources/
Book Elaine Froese to Speak at Your Next Event:
elainefroese.com/speaking
Get a Farm Transition coach:
elainefroese.com/coaching
Shop Elaine's Bookstore: 
elainefroese.com/shop/#books
Our founding Members launch is now past, and if you'd like to be on the waitlist to join our Farm Family Transition Membership, please sign up for the waitlist to join us in February: 
elainefroese.com/membership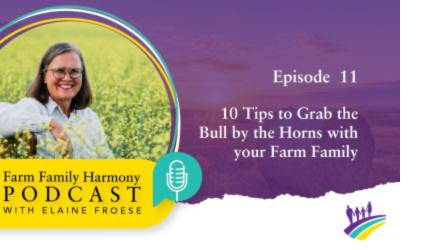 Click Here

 to listen to Elaine's Podcast
Follow Elaine On social to hear about upcoming events, free transition tools, and finding harmony tips!
Facebook: 
http://www.facebook.com/farmfamilycoach
Instagram: 
http://www.instagram.com/farmfamilycoach
LinkedIn: 
http://www.linkedin.com/in/farmfamilycoach
YouTube: 
http://www.youtube.com/c/farmfamilycoach
Twitter: 
twitter.com/elainefroese