Back to News
Nuffield Canada offers $20K scholarships to primary producers
Friday, May 26, 2023
Reference: Nuffield Canada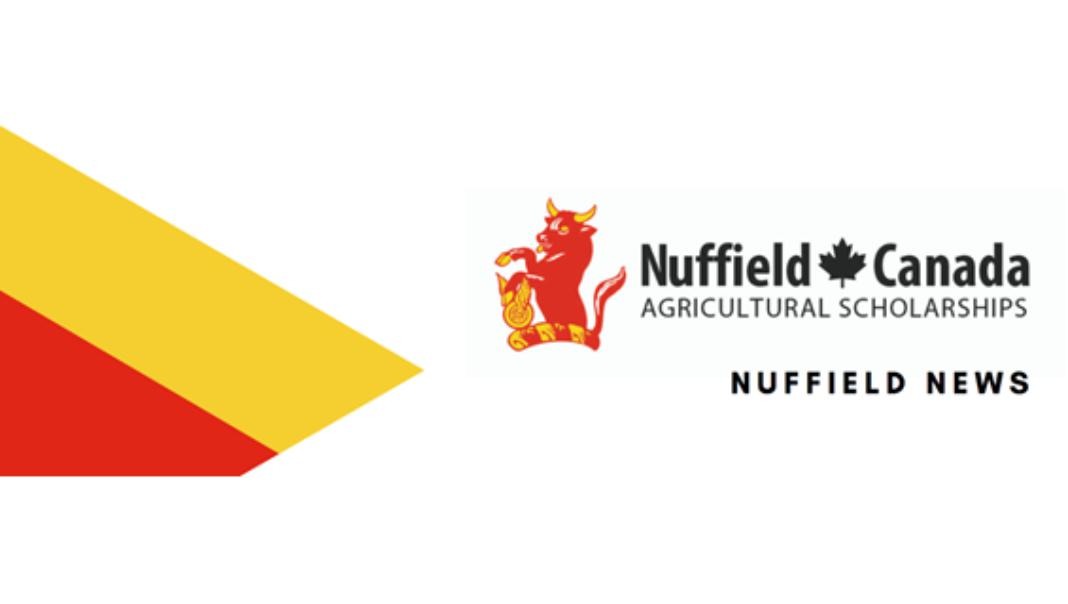 FOR IMMEDIATE RELEASE
May 25, 2023
Nuffield Canada offers $20K scholarships to primary producers
Ottawa, ON – Applications for 
2024 Nuffield Canada Agricultural Scholarships
are now open and the deadline to apply is June 30, 2023.
The Nuffield Scholarship is a prestigious rural leadership program available to Canadian citizens who are involved in any aspect of agriculture. Its goal is to attract mid-career applicants with a passion for agriculture who are ready to challenge themselves in a program of self-directed international travel and study. The experience results in personal and professional benefits, while adding value to Canadian agriculture as scholars assume positions of greater influence in their field.
This $20,000 scholarship provides individuals with a unique opportunity to: access the world's most extensive networks in food and farming; achieve personal development through travel and study; and deliver long-term benefits to Canadian farmers and growers, and to the industry as a whole.
"Nuffield Canada is part of a global network of Nuffield alumni who support each other in their travel studies to learn more about various aspects of agriculture," explains Blake Vince, Nuffield Canada Chair and 2013 Scholar. "This unique scholarship opportunity develops new influencers that go on to reshape our Canadian agricultural sector with revitalized innovation, global perspectives, and leadership."
Recipients must do a minimum of 10 weeks of travel study within 24 months to examine and research an issue of their choosing relevant to modern production or practices. They then write a report on their research findings and make a presentation at Nuffield Canada's Annual General Meeting, with peers, sponsors, and industry leaders in attendance.
Scholarship recipients can come from all areas of primary production including food, fibre, health care, biofuels, forestry, aquaculture, and fisheries. Successful candidates can represent any aspect of the value chain such as primary production, processing, governance, communications, safety, mental health, and others. Nuffield Canada values diversity and encourages applicants from all production philosophies such as commercial, organic, cottage, medicinal, Indigenous and others. Anyone interested in learning more about Nuffield Canada and the application process please visit
www.nuffield.ca
.
"My Nuffield Scholarship has led to significant personal growth and has expanded my view of both Canadian and global agriculture. My learnings changed the way we do business; we're now always looking at new ways of doing old things," said 2019 Canadian Nuffield Scholar Mark Brock, a mixed crop and sheep farmer near Staffa, Ontario. "Completing a Nuffield scholarship has been one of my best life experiences and has helped me grow in business and in my personal life. If the thought of travel study sparks your interest, then I encourage you to investigate the Nuffield Canada opportunity."
Nuffield Canada, a registered Canadian charity, is over 130 alumni strong. As part of a larger international community, Nuffield Canada has affiliate organizations in Argentina, Australia, Brazil, Chile, France, Germany, Ireland, Japan, Kenya, Netherlands, New Zealand, South Africa, United Kingdom, United States of America, and Zimbabwe. Scholar recipients instantly become members of the 1900 global Nuffield alumni network, which hosts and supports traveling scholars.
For more information contact:
Theresa Whalen, Executive Director, Nuffield Canada (613) 325 7321 
exec.director@nuffield.ca
E. Blake Vince, Chair, Nuffield Canada & 2013 Scholar (519) 359-0924 
e.blakevince@gmail.com
Mark Brock, 2019 Nuffield Scholar (519) 274-3297 
mark@shepherdcreekfarms.ca
2022 Scholars are also available for comment:
Ingrid Johnston, BC (250) 267-4789 
tyjohnston4@hotmail.com
Ingrid is a co-owner and manager of 
Onward Ranch
near 150 Mile House in BC. Her topic of study focuses on how primary producers can direct market their farm products from farm to consumer door through urban-rural connections.
Ken Coles
, AB (403) 317-0757 
ken@farmingsmarter.com
Ken is the executive director of the agriculture innovation hub
Farming Smarter
, in Lethbridge, Alberta. Ken hopes to change the way people farm by studying grassroots on-farm innovation organizations around the world.
Shawn Moen
, SK (306) 380-6814 
shawn@9milelegacy.com
Shawn is the CEO and co-founder of
9 Mile Legacy Brewing
, an innovative nanobrewery located in Saskatoon, Saskatchewan. He is studying how jurisdictions use a business incubation model to create environments where diverse, stratified, and multi-channel agricultural SMEs can survive in start-up and thrive in growth.
Odette Menard
, QC (450) 230-4112
odette.menard246@gmail.com
Odette is from Saint-Simon de Bagot, QC, and works in soil and water conservation for the Ministry of Agriculture, Food and Fisheries of Québec. Odette is an expert in 
earthworm behaviour and soil
improvement under no-till conditions. Her study topic is to recognize and understand the behavioural changes required to adopt soil health practices for the long term.
Lauren Park
, NS (902) 292-5160 
laurenheatherpark@gmail.com
Lauren is a beekeeper with two farms -
Forest Hill Apiary
, and Cosman and Whidden Honey Ltd., in Forest Hill, NS. She specializes in queen bee rearing along with fruit pollination, and honey production. Her topic of study is on queen health, and the queen bee's impact on sustainability in the beekeeping industry.
Mark Phillips
, PEI (902) 388-0138 
maphill3@hotmail.com
Mark is from Bonshaw, PEI, and is the Marketing Specialist for the
PEI Potato Board

.
His goal is to learn more about issues producers face with respect to developing public trust and how to work with the general public to foster an understanding of agricultural practices and the reasons behind them.