Back to News
Join us online for a Farm Financial Fluency Program
Friday, January 20, 2023
Reference: Farm Management Canada
At Farm Management Canada, we encourage you to know and understand your farm financial situation. To help you learn about different options available to remain competitive and take calculated risks for continued success, we are presenting the Farm Financial Fluency Training Program to Canadian farmers. We are currently offering a program with a focus on beef production.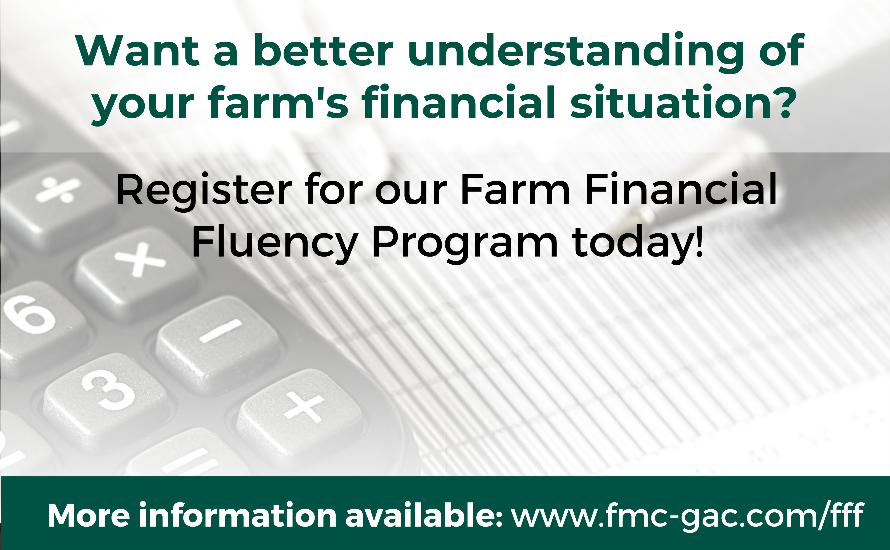 FARM FINANCIAL FLUENCY PROGRAM
General Training Program | February 13, 15 & 17 from 1-3 p.m. EST
Dairy-Focused Training Program | February 27, March 1 & 3 from 1-3 p.m. EST
The general program is open to any Canadian producers to attend. The fundamentals of the training are applicable to all farm operations, although the Case Study and some examples may focus more on beef and mixed grain farming.
The dairy focused program will be specific to Canadian dairy producers.
YOU WILL LEARN:
Why financial reporting is important and to whom
Key differences between types of financial reporting and who uses what
Different farm business structures and their impact on financial reporting
How to interpret your financial statements (balance sheet, income statement)
Financial ratios and how to use them to analyze risk
How to spot potential financial issues and opportunities
Tools and resources available to manage financial risk
and more!
PROGRAM DELIVERY
The program consists of three 2-hour sessions spaced out to allow time for reflection and homework. There is also an optional complimentary meeting (60 minutes) with an MNP business advisor to discuss the interpretation of your own financial statements.
The program ends with a production-specific in-depth case study to put the concepts into practice. Participants will come away with a greater knowledge of financial management, greater confidence in making financial decisions, and how to use the tools and resources available.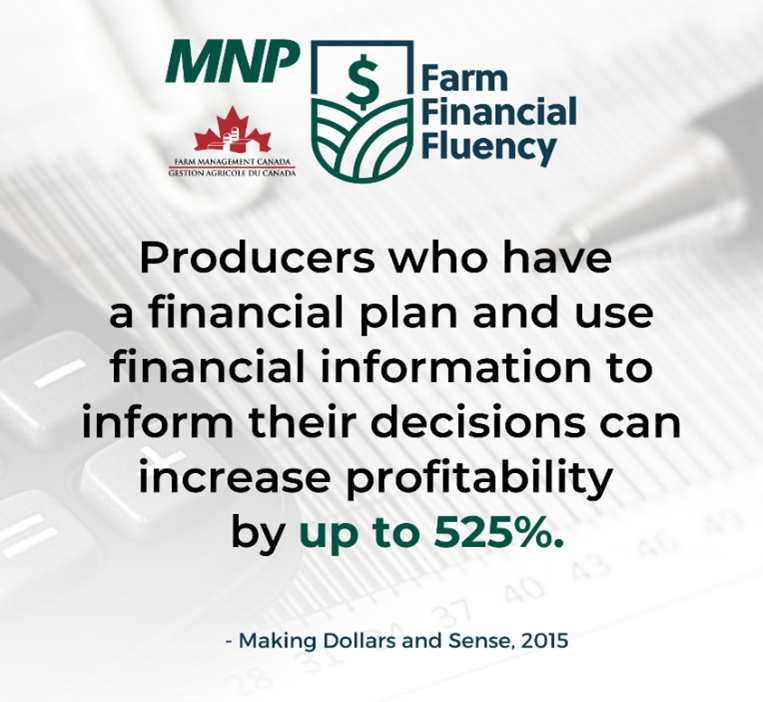 Each participant will receive a Participant Manual to guide their learning experience.
This program will be applicable to farmers across Canada.
You should be available to attend all three sessions to make the most out of the program. Cost to participate is $250 + HST.
Program capacity is 40 registrants, so don't delay! Register today!
For help with your registration, please contact the program organizer:
Farm Management Canada
Tel: 1-888-232-3262 or (613) 237-9060