Back to News
"I've never wanted to be anything but a veterinarian": Meet Dr. Luis Burciaga-Robles
Wednesday, May 31, 2023
Reference: Telus Agriculture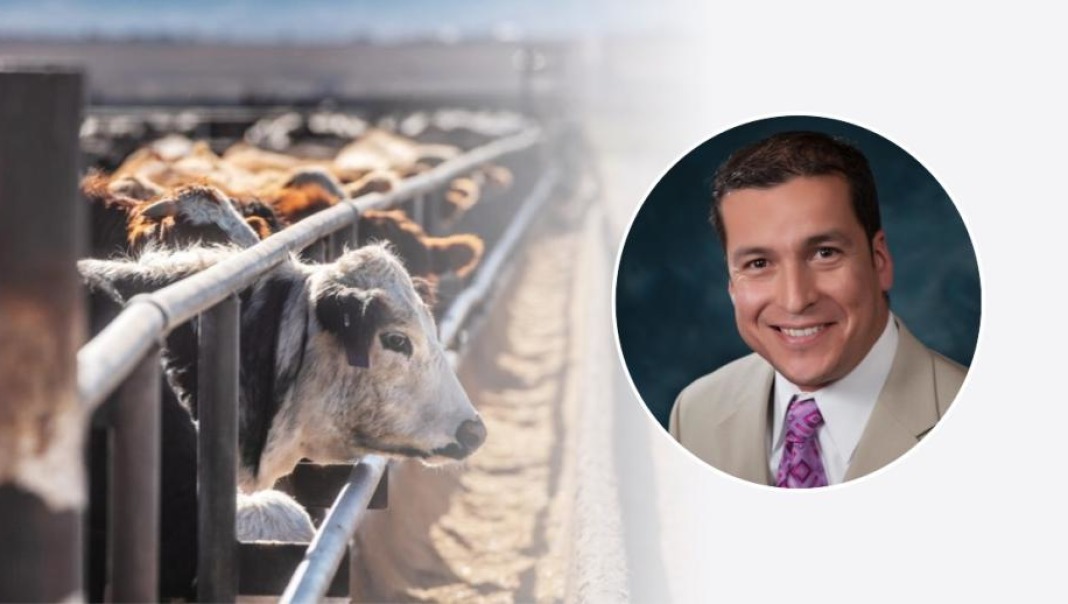 Dr. Luis Burciaga-Robles is helping cattle feeders around the world find greater success through better animal health, nutrition and marketing.
As a young boy growing up in Chihuahua, Mexico, Dr. Luis Burciaga-Robles, Director of Latin America Services and Business Development with TELUS Agriculture & Consumer Goods, always knew he'd one day work in animal agriculture.
"I don't remember ever wanting to be anything else other than a veterinarian," he shares from his home in High River, Alberta, reflecting on the time he spent on his maternal grandfather's farm. "They owned an apple orchard where they also had corn and a cow-calf operation. I spent all my summers and winters there working with the cattle."
His passion for animals and the cattle industry led Luis to studies in veterinary medicine and animal nutrition, culminating in his PhD in ruminant nutrition at Oklahoma State University. After academia, he became a partner with Feedlot Health Management Services, a Canadian-founded consulting service that supports feedlots using a data-based decision-making approach, working with customers in Canada, the U.S., Mexico, Brazil and Kazakhstan. In 2020, when Feedlot Health joined TELUS Agriculture & Consumer Goods, he stepped into the role of Director of Latin America Services and Business Development.
Those experiences have taken him across the world, where he's developed deep and long-lasting relationships with a diversity of cattle farmers. "I've been very blessed to have visited a lot of countries and been exposed to many different production systems," he reflects. "I've had the opportunity to visit a lot of different places because of what we do, including South Africa, China, Brazil, Argentina, Nicaragua, Costa Rica, Mongolia."
Luis may have built a career out of caring for animals, but he's a real people-person at heart. He's most proud of the friendships and teams he's built throughout his career. "Some of our clients I've been working with for over a decade," he shares. "I love being able to see how they've developed as entrepreneurs, as businesses, as fathers and mothers, and knowing I've been part of their growth and facilitated some of that and contributed to their successes."
5 things to know about Dr. Luis Burciaga Robles
What excites him about the future of agriculture
I'm very interested in the integration of the supply chain, from crop inputs all the way to retail. Being able to find ways to integrate everything that TELUS is acquiring and building into an actionable platform or knowledge, that's what brings me passion. How can we put all these pieces together? As a story, it's beautiful. It's not going to be easy, but if anybody can do it, it will be TELUS, because of all the things that we bring to the table.
What he sees as the biggest challenge facing the cattle industry
I think that society is evolving. We need to hear their concerns and demands, educate them and reach an understanding of needing each other. We must educate society and present ourselves as ambassadors of the environment and animal wellbeing in order to have a sustainable industry. Consumers won't stop eating beef simply because of financial constraints.
How TELUS can give back to communities
Coming from Mexico and seeing what our customers there have done to give back to society, I see a huge potential in TELUS giving back to those communities where we live and work.
How he starts every work day
The first thing that I do in the morning is check in with my team, hear about their accomplishments and barriers, confirm our plans for the day, and support them in reaching their goals.
How he spends his free time
It's all about family. I have my wife Ana, my eight-year-old Damien, my four-year-old Victoria and a one-year-old Rebecca. I spend my weekends doing hockey with Damien, and Vicky loves tae kwon do. So we spend a lot of time enjoying sports, riding horses and doing activities as a family.